Exhibits are open from 9:00AM - 3:30PM. All exhibitors and attendees are invited to stay for the Expo After Dark networking event.

PLEASE JOIN US ALL DAY! Exhibitors are invited to attend the keynote, breakfast, lunch, networking and breakout sessions. Your exhibitor registration includes it all!
Event Date: Wednesday, November 8, 2023
Shipping
Shipping is highly recommended if you have a display larger than tabletop displays and pop-ups.
Make sure to send packages to the attention of John Wilson

Include "Remodeler & Supplier Expo" on the package.
Potawatomi Hotel & Casino
1611 W Canal St
Milwaukee, WI 53233

John will have items brought to the Event Center
John Wilson can ship items back if the packages are labeled property and left with banquet staff.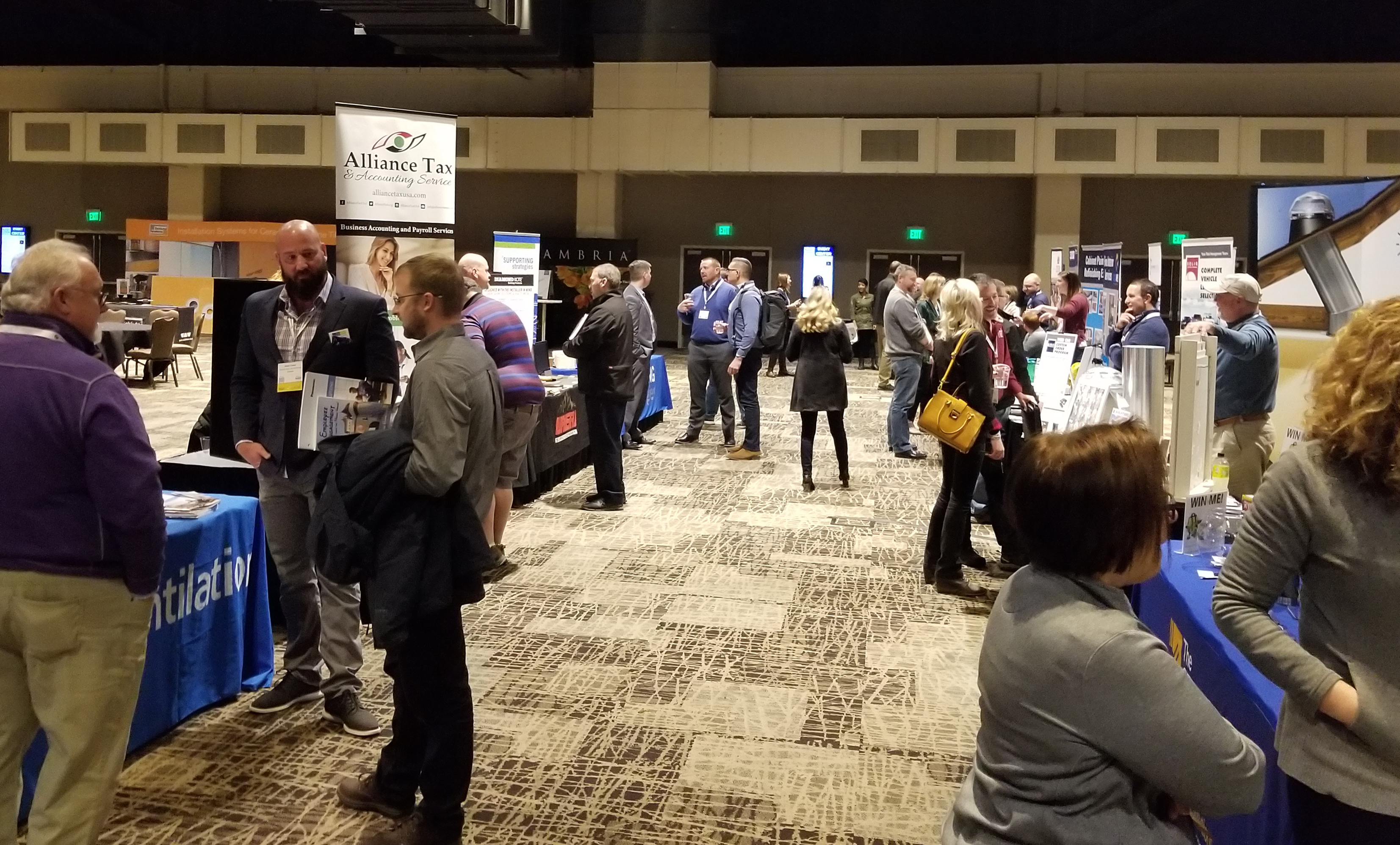 Exhibitor Move-In/Set-Up/Move-Out
Event Set-Up:
Tuesday, November 7 from 12:00PM - 10:00PM
Wednesday, November 8 strictly between 6:00AM – 7:00AM
Note: The exhibit hall shares space with the keynote address, so it is imperative setup be complete prior to the start of the keynote.

If possible, please set up Tuesday and join us all-day Wednesday to network and attend the breakout sessions.

Move-out:
Move-out must be complete by the evening of Wednesday, November 8.
Your exhibit area must be cleared of all materials and trash or an additional fee will apply to the exhibitor via a final bill.

Exhibit materials cannot be discarded at the event facility. If any such items are found in the facility waste compartments or dumpsters a fine will be assessed to the exhibitor via a final bill.
Exhibitor entrance to the venue will be through the front entrance of the building.
––

The maximum width and height of the front entrance doors is: 71" (w) x 82" (h).
***A limited number of Hand Carts will be available on the 4th level skywalk for exhibitors.

There are 2 ways to Move-In and Move-Out if you are not shipping materials.

***Recommended – Since the Remodeler & Supplier Expo has 8' tabletops, you can load in through the skywalk entrance on level 4 and proceed to the Event Center.
-or-
Potawatomi Loading Dock Instructions
1. All vendors must check in at the COMSEC desk located at the team member entrance before entering the loading dock.

2. All members of the vendor crew that will be utilizing the loading dock entrance to the back of building must receive and wear a visitor badge during the duration of load-in.

3. In order to receive a visitor badge from COMSEC all vendor members must present a photo ID.

4. Loading dock will assign a dock to the vendor depending on the scheduled deliveries and availability of dock space.

5. No loading truck may park in the loading dock for an extended amount of time. If larger trucks need to be parked for an extended amount of time, the catering department will need to be contacted in order to make arrangements of where. Please call 414-847-8600

6. Trucks may be asked to turn off the engine if the loading space is use for duration of time. This may trigger the sprinkler system.

7. The catering team will meet with you to escort vendors and equipment into the Woodland Dreams Ballroom. Anytime the vendor needs to excess the back of the casino or loading dock area they will need to be escorted with the visitor badge.

8. All visitor badges will need to be returned to catering or directly to COMSEC.

We ask that you move your table top exhibit and any display materials to your exhibit table and relocate your car/truck to the parking lot prior to setting up your exhibit. Please be courteous and move your materials in as quickly as possible to allow time/space for other exhibitors who are also moving in at the same time.
You will be allowed to hand carry or use soft-wheeled dollies/carts only from the front entrance to your exhibit table.




Steel wheel dollies/carts are not allowed anywhere in the building.




Doors to the building are not allowed to be propped open by any means other than their own operating devices.




We ask all exhibitors to take additional precaution in protecting valuables at your table(s) during the event. We recommend taking any laptop computers with you should you plan on attending educational sessions during non-exhibit hours.



Recommendations
This is a list of a few things that can help you promote your company at the expo.
Come prepared. Have materials ready to hand out and have your elevator speech prepared to talk to potential customers. Also, bring a way to track new leads to follow up on.




Unique displays always grab attendees' attention.




Attendees love free goodies! Bring the candy bowl that sits at your desk or that box of bottle opener keychains with you.




Games or drawings are a great way to get attendees to come visit you. See what you could come up with!




Most importantly—have fun!



Remember, we're putting the event together and getting the people to come, but it's up to you how you utilize your time at the event that will help to maximize your results.


Event Parking
Garage parking at the event facility is free. If you are driving a vehicle that exceeds the size of a standard car/truck and/or has a trailer on the back, please be courteous in selecting your parking space at the event facility as the venue will be open to the public during event hours.

Exhibit Display and Exhibitor Guidelines
Expo management will prepare the layout of exhibit tables/spaces and assign space accordingly. We reserve the right to rearrange the layout of exhibit tables as deemed necessary for the benefit of the event.

All products and exhibit table displays must be described on your contract/application and must be approved by NARI Milwaukee prior to setting up for the Expo. As noted on your application, the description provided will be used in the final program book for the event.

Please note: There will not be a pipe and drape barrier between you and the exhibitor next to you.

Any exhibit displays/materials that will extend beyond the immediate area of your 8' exhibit table must be approved by Expo Management prior to the event. If your display is larger than the area occupied by the 8' exhibit table, or your exhibit is comprised of something other than a table top exhibit (i.e. sample equipment/product, etc.), your display must be approved by Expo management prior to the event and/or you may be asked to purchase a second space to accommodate such materials. You may be asked for a photograph of your materials, as well as a certificate of insurance.

Fraud and misrepresentation: Each exhibitor/company is expected to deal honestly and fairly with conference attendees. Any attempted fraud or misrepresentation will be considered sufficient cause for revoking your contract to exhibit at this event and allow for removal from the expo exhibit area.
Exhibitors are prohibited from reassigning an exhibit table that has been assigned to them to a different company without prior review and approval by Expo management.




Skidsteers and forklifts are not allowed in the event building. If you have large scale display materials, (i.e. materials that extend, or are larger than, the area occupied by your assigned 8' exhibit table) they must be approved by Expo management prior to the event. Please contact Expo management immediately if your materials cannot be accommodated by the 8' table top exhibit space that you have reserved.




Adhesive materials such as duct tape are not allowed on any surface in the event building.




Drilling or anchoring into the floor or ground in the event facility is strictly prohibited.




Pets are not allowed during the event at any time.




Exhibitor displays must not obstruct neighboring exhibit displays. Expo Management reserves the right to remove any display in violation of this regulation.




Attendee walkways on the exhibit area floor must not be obstructed in any way.




The Expo facility is furnished with a carpeted floor. It is the responsibility of each exhibitor to take every measure to protect the floor covering in their space from damage by their exhibit materials or display. Should your display or materials damage the facility floor covering, you will be held responsible.




Items hanging from the walls or ceiling of the facility are strictly prohibited.

Exhibitor Credentials
For each 8' exhibit table (10x10) purchased, your company will receive two (2) complimentary Full-Access Passes. Name badges will be available at the registration table once you arrive at the venue. If you wish to register more than two (2) exhibitors per 8' table purchased, you can do so for a fee of $115 per person.

Exhibitor Presence

Exhibitor Conduct Guidelines
Please be sure to read all rules and regulations in this document and on your initial application and contract for space.

IMPORTANT CONDUCT GUIDELINES FOR EXHIBITORS
The following guidelines have been established for exhibitors and must be adhered to for the good of the event. Please read the following information carefully.

1. Exhibitors may not use loud or crude language.
2. Exhibitors may not visit other exhibit tables for the purpose of eavesdropping on competitors' conversations with attendees.
3. Exhibitors may not follow prospects to other exhibitors' spaces.
4. Exhibitors may not use offensive pressure tactics.
5. Exhibitors may not use deceptive tactics.
6. Exhibitors are not allowed to solicit unrelated expo services or products during event hours.
7. Amps and microphones are not allowed at exhibit tables.
8. All exhibitors must adhere to the guidelines contained above and in the rules and regulations on the reverse side of their application/contract for exhibit space.

Overnight Accommodations at Potawatomi Hotel & Casino
Reservations can be made directly through the hotel at http://www.paysbig.com/ use code MNH11092022

Questions or Concerns?
If you are scheduled to exhibit at the Remodeler & Supplier Expo and have questions or concerns regarding the event or any information in this packet, don't wait until you're onsite to ask.
Please contact us at your earliest convenience: NARI Milwaukee, Inc. (414) 771-4071